History-boy Li eyes more milestones
Share - WeChat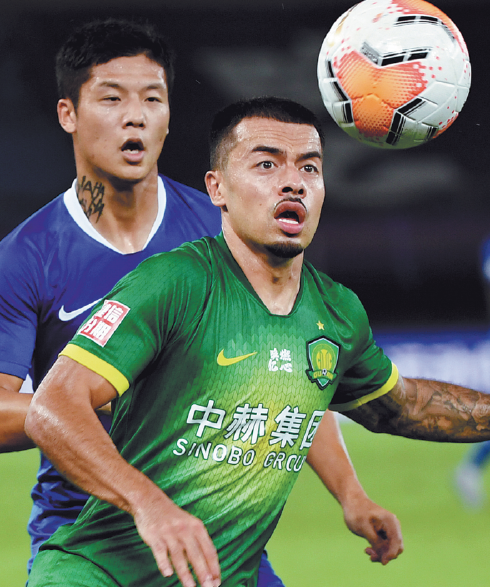 Li Ke says the prospect of a dream matchup against his native England is fueling his determination to help China qualify for the World Cup.
Li, China's first naturalized player, grew up playing youth soccer with England striker and fellow east Londoner Harry Kane, and admits he is relishing the possibility of facing his former teammate at the 2022 finals in Qatar.
"It would be funny, would be amazing if that did happen," Li, aka Nico Yennaris, told the Asian Football Confederation's website (theafc.com) in an article published on Wednesday.
"I've always been very ambitious, I've always set my targets high and I've always tried to push the boundaries for myself."
Li joined Beijing Guo'an from English second-tier side Brentford in January 2019, along with another naturalized import, Norway-born Hou Yongyong, aka John Hou Saeter. Li's debut for Team China in a 2-0 friendly win over the Philippines in June that year saw him become Team China's first naturalized player.
"It's an honor really because you've created a bit of history that no one else can take away from you," said Li.
With China's chances of qualification for Qatar hanging in the balance, it remains to be seen whether Li can fulfill his international dreams.
World Cup finals or not, the 27-year-old midfielder is satisfied he made the right decision in accepting China's offer.
"You've got to be realistic. (Was) it possible for me to play for England? Probably no, honestly, with the way my career was going on," said Li, whose mother is Chinese."If I was to look at where my career was going at that time, I would probably have said you're mad.
"At first it was literally just, is it possible that I can play with China? And then they (contacts in China) explained about having the Chinese passport.
"And then the conversation came back with: Would you play out in China? And then that was a whole other conversation."
Li's move to a new country and new league has inevitably taken some adjusting to, both on and off the pitch.
However, a year and a half into his Chinese odyssey, he can look back with pride on how things have panned out. The Arsenal academy graduate has proved a neat fit in China's midfield in the five games he's played-three World Cup qualifiers and two friendlies. All that's been missing from those performances has been a goal.
Li has also stamped his authority on Guo'an's midfield-starting seven of the team's opening eight matches of the delayed CSL season to average 79 minutes per game. Guo'an also looks a certainty for the knockout stage, with Bruno Genesio's side sitting second in Group B.
Media reports and posts on Li's social media suggest he has developed a good relationship with his teammates and is enjoying his time in China.
"To me, I was just focused on playing football," said Li, recalling his initial settling-in period. "It's new language, culture, food, everything."
Li's successful integration has paved the way for more naturalized players to join Team China's ranks-Brazil-born striker Ai Kesen (aka Elkeson) netted three goals in last year's qualifiers and is now a mainstay of the squad, while Brazil-born Luo Guofu (aka Aloisio) earned his first call-up for a training camp in Shanghai in May.
Head coach Li Tie was also keen for Brazil-born Alan to participate in that camp, however the Guo'an forward, who is on loan from Guangzhou Evergrande, could not attend because of travel restrictions linked to the COVID-19 pandemic.
FIFA has confirmed it will this month discuss proposed changes to its international eligibility rules, which look set to have implications for the Chinese Football Association's naturalization policy.
The possible amendments could open the Team China door for more imported players, such as Evergrande's naturalized defender Tyias Browning, aka Jiang Guangtai.
However, coach Li is believed to be cautious about adding too many naturalized players for the next qualifiers, which have been postponed until next year due to the pandemic. Reports say Li rates the performances of certain naturalized players during the current CSL campaign as "not stable enough".
"For the World Cup qualifiers, there will be naturalized players joining Team China," CFA president Chen Xuyuan said earlier this year.
"However, they will be in the minority. The national team will not be mainly composed of naturalized players."